Quality management
Our quality management system is built on the basis of IATF 16949: 2016 edition,
and it is constructed and implemented with continuous improvement method
to prevent defects, change (distribution) and reduce waste.
In addition, we are focusing our efforts on customer satisfaction, competitive advantage,
and development of new technologies by developing innovative activities
in various fields through voluntary participation of employees.
Quality management principle
01

Customer focus

02

Leadership

03

Active participation

04

Process approaching method

05

Improvement

06

Evidence-based decision making

07

Relationship control / Relation management
Process approach method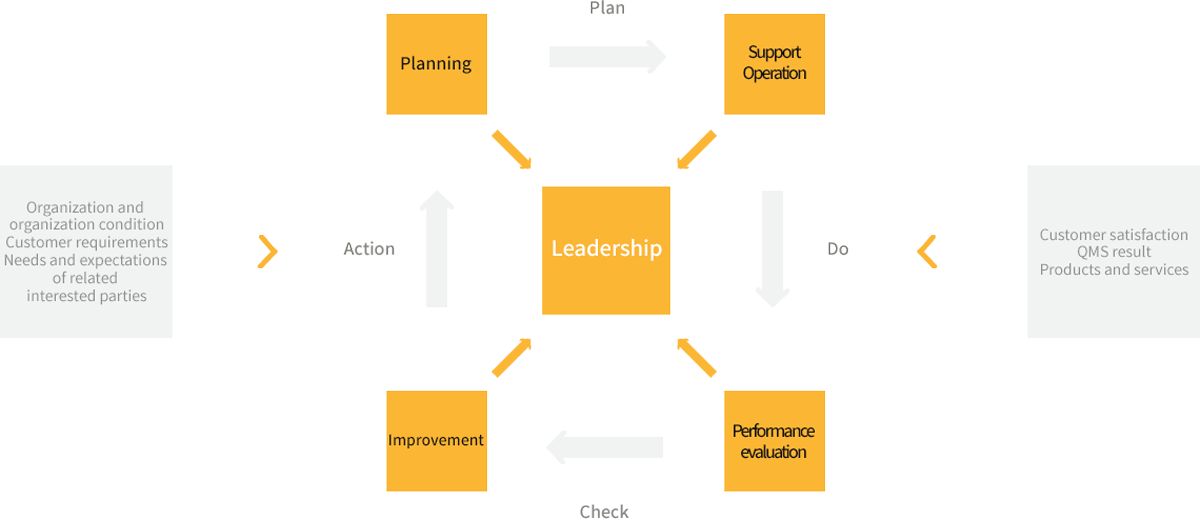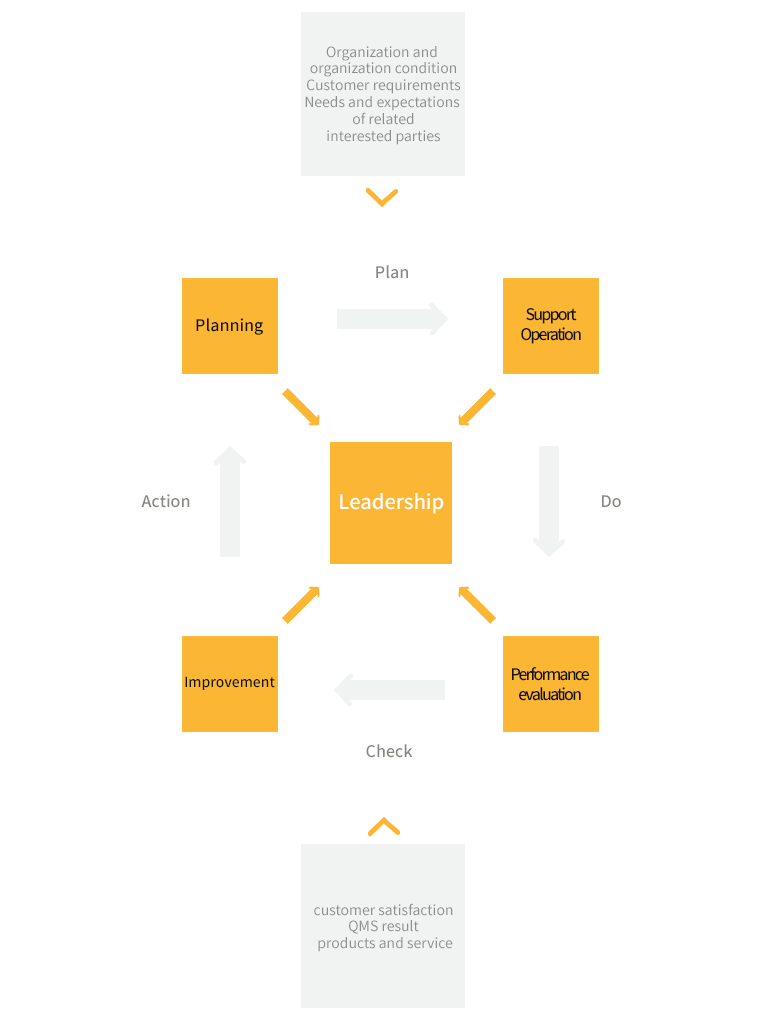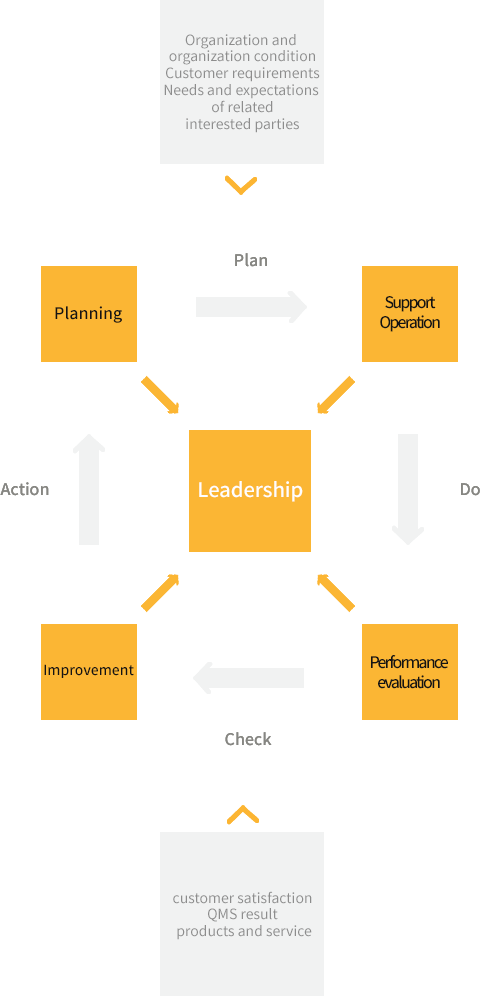 Plan
Understand the processes required for the quality management system
Understand the order of processes and their interactions
Determine the standards and methods necessary for the operation of the process
Do
Provide resources and information needed to operate the process
Check
Monitor / measure / analyze process outcomes
Action
Continuous improvement of process outcomes and necessary actions
Quality policy
We establish the following quality policy in order to achieve
customer satisfaction through continuous improvement
activities of the highest quality, technology, cost, payment,
and safety and to comply with the relevant laws and regulations.
We will do our best to implement it
Guarantee product safety "100%"
Zero-defect
Zero customer complaint
Safety / Environmental
management
We recognize the importance of customer satisfaction,
respect for humanity, and global environmental conservation
and establish the following environmental safety and health
policy to implement management activities.
01

Prevent global warming and reduce environmental load

02

Prevent safety health accidents and implement zero disaster by removing harmful and risky elements

03

Implement goals to minimize the impact of the environmental safety and health

04

Develop and produce environmentally friendly and safe products

05

Conform to environmental, health and safety regulations and other requirements, and provides systematic education and training

06

Assess environmental health and safety performances and continued environmental health and safety improvement activities
Ethical management
Ethical
management
Transparent
management
Mutual win-win
cooperation
Environmental
protection
Information
security
Social
responsibility
one. We clearly deny any kind of money or entertainments in the promotion of our business.

one. We believe that honesty and fairness are our highest values.

one. We always do our best for the rights and interests and always keep our promise to customers.

one. We always have fair and just transactions with our partners.

one. We do our best to support and nurture our partners.

one. We always make efforts to protect the natural environment.

one. We always strive to improve quality and technical innovation.

one. We always keep information of our customers and partners secure.

one. We will do our best for social contribution and national development.

01

We do not receive any kind of gifts from the party concerned and stakeholders.(cash, check, securities, gift certificates, air tickets, etc)

02

We do not receive entertainment or discounts under any circumstances.

03

We do not engage in anything that could cause problems such as gambling golf or poker with employees of the partner.

04

We do not dine out with a partner and we will use the cafeteria at the company whenever possible. If we have no choice but to dine out with the partner, we will not deviate from the transparent management policy guidelines.

05

We do not ask for any kind of personal favors.

01

We perform duties based on fair and appropriate procedures at all times in all kinds of business operations.

02

We do not engage in unlawful acts in any form using superior authority and dominant position.

03

We make efforts to nurture globally competent partners and prepare and operate a systematic program to support partners.

04

We keep etiquette in carrying out business with partners.

05

We protect the rights and interests of our customers and always keep our promises to our customers.

01

We actively take measures to prevent or contain substances harmful to human health or the environment during product development and production.

02

We do not use or assist in the use of hazardous substances prohibited by domestic or international law.

03

We make efforts to sustainably use resources and energy and to reduce pollutants throughout the entire process of product development, production, sale, use, and disposal.

04

We actively support environmental education of our employees and environmental management activities of our partners.

01

We do not use the information obtained in connection with the business for the benefit of the individual.

02

We do not disclose information obtained from customers and partners to arbitrary third parties.

03

We do not arbitrarily distort information relating to customers or partners, disseminate false facts, or destroy data.

04

We take security measures for proper management control for the company's information security.

01

We make every effort to fulfill corporate social responsibilities.

02

We always make efforts to give dreams and hopes to difficult neighbors and develop constantly with civil society.

03

We respect the dignity and happiness of human beings, comply with the principle of equality of men and women, refuse child labor and forced labor, and deny any sexual harassment.

04

We endeavor to respond promptly to the global desire for development into a happier society.
Social contribution
Namyang Nexmo makes efforts to make a beautiful
society by guaranteeing the safety of the driver.
Namyang Nexmo cares about corporate social
responsibilities and fulfills its obligations faithfully.
We carry out social service activities such as supporting
a disability nursing home and employee volunteer activities.
We make voluntary practices for mutual development like
returning profits to the local community.
We will continue to develop our products with a sense of
social responsibility, such as sustainable equilibrium
development, human rights, and environmental friendliness.
In the future, Namyang Nexmo will become a company
that is loved and trusted due to the company's spirit of
contributing to society with the reminder of the spirit of
the company that "profits earned by a company must be
returned to the society.